Top Attractions For Warragul
Historic Buildings and the Museum - The court house in Smith St, built in 1887, is classified by the National Trust, while the Wesley Uniting Church in Victoria St opened in 1889. The Warragul Historical Museum, containing local history and dairy exhibits, is situated in the old shire hall (1892). Of further historical interest is the Warragul Vintage Craft Park in Copelands Road which contains functioning examples of old farm equipment, a miniature steam train which carries visitors through the park and gardens, as well as barbecue and picnic facilities. Entrance is free and there is a playground for children.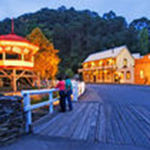 Walhalla Historical Township
Walhalla Historic Township is the jewel not only in our local area's crown, but also for Gippsland and Victoria. It stands almost frozen in time much as it was as a bustling gold mining town in the late 1800 's. The mix of the township's beautiful location in a deep mountain valley and gold-era heritage gives Walhalla the "wow" factor that draws people from all over the world to visit Australia's "Valley of the Gods". There's also plenty of things to see and do. Whether you're looking for a family holiday, ride the train, tour the mine, take a 4WD adventure or simply relax and enjoy a romantic break, get away with some mates, escape the city life, have a ski, walk the trails or simply visit a place you've never been before you'll find Walhalla & Mountain Rivers a rewarding experience.